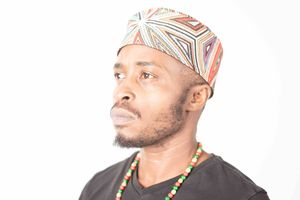 One who not only dreams courage and self-realization, but makes it true. His own biography tells the story: The Zurich-based MSOKE aka Namusoke with roots in Tanzania has made it possible for himself to live his true male gender identity. He was born Namusoke in the wrong body and now lives his life as a man. Not a matter of course if you take homo- and transphobia into account in many parts of the reggae, dancehall and hip-hop scene, but also in many other areas of society.
BIO - ENGLISH
2003 the Hamburg label Buback, which also released Jan Delay's album "Searching for the Jan Soul Rebels", released the only maxi from their debut 12" "Murder Time". The song is played with great enthusiasm by DJs of all styles in the clubs. 
2004 the four tracks of the "Survive" EP were released, all written by MSOKE themselves. The EP is recorded in Hamburg (Buback Tonträger) and Zurich. The outstanding remix of the title track "Survive" comes from nobody less than the Wighnomy Brothers! This EP has the power to melt ice. 
2005  a video clip was released for the track "Survive". The tour calendar for the year 2005 is fully booked. Among other things MSOKE gives us a fantastic performance at the famous PALEO Festival in Switzerland. In this way MSOKE makes a strong name for itself in the urban music scene. His unique voice and his extraordinary manner are probably the main reason for his success and help him to a constantly growing fan community. At the beginning of 2006 he gave a TV interview with the legendary Kurt Aeschbacher in the well-known Laborbar in Zurich. The music industry becomes aware of MSOKE. 
2006 MSOKE releases its long awaited debut studio album in full length. This time he can win over the producer of THE SEA from London, who is known for producing the best of British Hip Hop such as Rodney Ps, The Future and Dynamite MC's fourth studio album. This sophisticated album, with influences from Ragga / Reggae, Afro, Hip Hop to Soul, is groundbreaking in the field of urban music. At the same time adventurous and accessible, this new production work brings out refreshing sounds and structures by blending classical ragga and hip hop influences with creative-modern urban music. A special and therefore perfect composition, adapted to MSOKE's voice, which the press describes as unique. 
With the label Chilly Media - by Talvin Singh - MSOKE releases one of the most refreshing urban music albums ever produced in Switzerland. The album is solid and credible from start to finish. This is urban music of true quality and with a cosmopolitan attitude that offers a wide accessibility to the audience. 
2008 MSOKE is involved in various interesting Featuring projects such as Bubble Beatz, NOAh sow, Dodo, Madd Family, Kera, Daz and many more. In summer 2008 he has the possibility to finish the long awaited album with the formation "SISTERS" (Germany). With "SISTERS" he also takes part in Stefan Raab's TV-Total Show "Bundesvision Song Contest 2008" and delivers a great performance, which moves the German media and fans all over Germany. 
2010 The waiting was worth it! "Amen" is the first song on MSOKE's new album "Don't try me", which will be released in December 2009. In contrast to the old album, MSOKE's new work seems more mature, varied, profound and at the same time playful. MSOKE manages to complement classical Ragga and Hip Hop influences with creative-modern urban music and to merge them into their own style.  
MSOKE also surprises us with numerous ballads such as "Étoile", "Just a dream" and "Time to let go". But MSOKE's fans can't only look forward to his unmistakable voice, which comes into its own in slow songs. Also several exciting Featuring projects are immortalized on his new CD. For example the song "She said no" feat. Miss Yasmine, for which MSOKE's brand new video clip can be seen on TV. "She said no", a song that has the potential not only to storm domestic charts, but also to hit Arab charts. ;) 
2015  Free Motion is released. MSOKE is one who not only dreams courage and self-realization, but makes it come true. The man from Zurich has now made it possible for himself to live his true male gender identity.  
Not to be taken for granted if one takes homophobia and transphobia into account in many parts of the reggae, dancehall and hip-hop scene, but also in many other areas of society. MSOKE's new album "Free Motion", on which he shares his reflective and energetic vision of reggae with the world, is clear proof of this. "Free Motion" has what it takes to become a classic, even as a socio-political statement: pieces like "Run" or "My Own Life" can't help but inscribe themselves into the soundtrack of a movement that clearly opposes sexism, homophobia, transphobia and any social inequality.  
MSOKE is now involved with many emancipatory artists such as Irie Revoltés, Berlin Boom Orchestra, Amewu, Nosliw and Sookee in the campaign "Make Some Noise - Homophobia and Sexism out of my music". He is both politically and musically an important and powerful voice for the reggae scene, which would do well to support his progressiveness and strength. The collaboration with Marco Dreifuss (piano), Patrick Sommer (bass), Pius Baschnagel (drums), David Stauffacher (percussionist) and Philipp Grétien (saxophone) brings the organic, warm sound of this instrumentally recorded album and makes "Free Motion" a professional reggae album whose production site one would not expect to find in Switzerland. Because: On "Free Motion" content and form meet so high quality that we can only thank MSOKE for producing this complex and moving album.  
2017 Msoke rewrites Reggae history with this bold and beautiful new album "Facettes", brought to you for the ultimate summer experience. He is able to combine highly political content with an uplifting, fun and refined sound.  
The first track 'Face Off' is about real raw human connection. The song functions like a tender invitation to strip to authenticity, to bond with each other and to follow Msoke into his music.  
Following the invitation along one can discover many features with other forceful artists, like Tamika, Carmel Zoum and Mal Élevé just to name a few. And forceful it is, songs shaking you to wake up, let go of your illusions and fight for a better tomorrow.  
He s touching upon his own reality of being reborn, finally in his own skin with the song 'Reborn' and 'Them Wanna'.  
And finishes deep and resonating with the believe in the unique human experience 'we are born free', this song has the power to carry you away, reminding you of your history, your emotions and tears, challenging you to break free: YES! YOU ARE BORN FREE!  
Closing one can only enthusiastically conclude: thoughtful, commanding, influential  
Msoke is offering a lot, his humanity.
2020 MSOKE, "the first Transgender on the Dancehall Agenda", presents us with its new acoustic track CONNEXTION further new facets.  
The single EP, which will be released on 01.05.2020,  
is the result of the first studio collaboration with the Berlin producer CEEJAY JOAQUÍN, who has been part of the MSOKE live show as drummer for five years.  
Only with guitar and vocals does the relaxed Swiss with Tanzanian roots create from the everyday stress of his fellow men and his own personal struggles and  
Challenges a powerful and sensitive song with a wonderfully positive and catchy hook.  
In the remix there is a funk band arrangement, choir elements and a deep rap part on the ears.  
One song, two versions that radiate power and simply put you in a good mood!